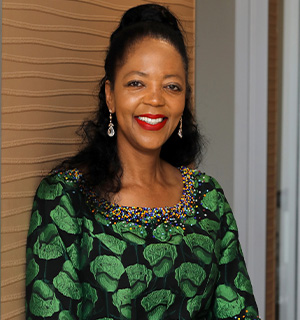 Contact Info
Judy Dlamini (Dr.)
Chairwoman
Dr Judy Dlamini a medical & academic doctor, business woman, author, and philanthropist; has worked in different sectors of the economy using her diverse skills sets. She worked as a medical family doctor and an Occupational Health specialist. After obtaining an MBA from Wits she changed careers. She worked for HSBC Investment Bank in the Corporate Finance division before going into business. She obtained Doctorate in Business Leadership from UNISA in 2014 and a Stanford Innovation & Entrepreneurship Certificate in 2018. Judy is the Founder and Executive Chairman of Mbekani Group that celebrated 20 years in business in 2016.
She is the former Chairman of Aspen Pharmacare Limited (Aspen) a JSE-listed South African pharmaceutical manufacturer and distributor,
other previous board appointments include Anglo American plc, Discovery Holdings, and Woolworths Holdings.
She is a published author of ''Equal but Different", a bestseller which earned her a place in the 2017 Exclusive Books Homebru author in business. Equal but Different was a conversion of her doctoral thesis which investigated the intersection of race, gender and social class in women leaders' career progression and strategies for gender transformation in leadership. She recently published her second title, "The Other Story". She'll be published her third book in September 2020 which is targeting young adults, titled "Grow to be Great: Awesome African Achievers".
She is the recipient of the African Economy Builder Lifetime Achiever Award for 2016, UNISA 2018 Leadership In Practice Award; AWCA 2018 Woman of Substance; EY World Entrepreneur, Lifetime Achiever award 2019, Gender Mainstreaming Award-Positive Role Model: Beacon of Africa 2019 amongst several other awards. She received honorary Doctorates from The Nelson Mandela University in Business in 2018 and The University of KwaZulu Natal in Economics in 2019.
She was installed as the Chancellor at Wits University in December 2018.
She's the co-founder and trustee of Mkhiwa Trust, a Public Benefit Organisation (PBO) that the family uses for social upliftment with a focus in rural development, health and education. She's the founder of Female Academic Leaders Fellowship NPC, an organisation that seeks to develop a pipeline of black women leaders in academia. She's the co-founder of Future Nation Schools and the Sifiso Learning Group. She's a wife, mother and grandmother.
Qualifications
MBChB (Ntl);
DOH (UFS);
MBA (Wits),
DBL(UNISA);
Stanford Certificate in Innovation & Entrepreneurship (Stanford University).
Boards
South African SME Fund
Wits Donald Gordon Medical Centre
Female Academic Leaders Fellowship NPC
Mkhiwa Trust (Family-Pbo)
Mbekani Group Of Companies
Professional Bodies
The Institute Of Directors South Africa
Current Position(S)
Founder & Executive Chairman Of Mbekani Group
Chancellor- University Of The Witwatersrand
Interest
Writing,
Travelling,
Social Justice and Gender Issues