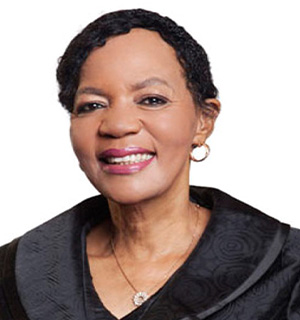 Contact Info
Namane Magau (Dr.)
Board Member
Dr Namane Magau holds a Doctorate in Education from Harvard. She also served on the Board of Harvard Educational Review during her doctoral studies at Harvard Graduate School of Education. Currently she is a Board Chairman of Bertha Gxowa Foundation and a Board Director at AON South Africa, Hans Merensky Foundation, including NTP and Necsa. She was recently appointed as a Board member of GBVF Response Fund which is a Private sector led structure launched by the President recently to drive initiatives directed at eradicating gender-based violence in the country. Past boards on which she served include Murray & Roberts, Merrill Lynch South Africa and Santam. Dr Namane Magau is a member of a women's investment Group Tselane Energy which invests in the energy sector.
Her past management and executive roles include the senior management position at the Development Bank of South Africa (DBSA) as a Director in the Human Resource Policy division. From the DBSA she joined the Council for Scientific and Industrial Research (CSIR) as the Executive Vice President for Human Capital. After five years at the CSIR she became part of the executive team at the South African Broadcasting Corporation (SABC).
The experiences she had in designing policy for National Programs like the HR strategy for the RDP and guiding development of management systems and programs for the science and innovation systems at the CSIR extended her understanding of promoting performance of organizations through engaging people at all levels and using efficient information management systems. She is an expert researcher on women economic empowerment and has been involved in several studies to promote participation of women Owned Enterprises in the economy.
As an educator, she is also passionate about development of others and has therefore been active in women development programs and was President of Businesswomen's Association (BWA), as well as President of International Women's Forum South Africa (IWFSA). She also mentors' young leaders, a role that she finds very enriching and inspiring.
Dr Magau embodies a rare character of a feminist, entrepreneur and educationalist who is passionate about Africa's development and assumption of her rightful place in the global economy.