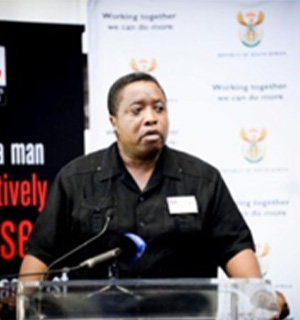 Contact Info
Bafana Khumalo
Board Member
Bafana Khumalo is a member of the Senior management team at Sonke Gender Justice serving as a Co-Executive Director and as one of the organisations' co-founders.
Bafana has a long and accomplished track record in the NGO sector. He was senior gender technical advisory for EngenderHealth South Africa between 2012 -2013.
From 2001-2008 Bafana served as a Commissioner at the National Commission for Gender Equality from 2001-2006 and 2007-2011. At the CGE he was instrumental in assisting National and Provincial Departments of Government to plan and coordinate many activities related to men, gender and HIV/AIDS.
Bafana has spoken at many national and international conferences on men, gender and HIV/AIDS, including the UN Commission on the Status of Women in 2007, 2008 and 2010, and at the International AIDS Society conference held in Mexico in 2008.
Together with Sonke Co-Director Dean Peacock, he was awarded Men's Health Magazine "Best Man" Award in 2007.
Recipient of the Vital Voices' Voices of Solidarity Award 2014.
Winner of the Forbes Woman Africa Male Gender Advocate Award, 2020.
Bafana currently serves as the Co-Chair of SANAC's Social and Structural Drivers Technical Task Team.
He serves as a Trustee of South African Women In Dialogue (SAWID).
He is the Co-Chair of the MenEngage Global Board.
He is a member of the Side by Side Global Steering Committee.
He is a member of the Board of We Will Speak Out South Africa.
He served as a member of the Presidential Gender Review Council in South Africa.
He is a member of the Ministerial Advisory Committee for Social Behavioural Change re-COVID 19.
Bafana serves as an associate pastor at the Evangelical Lutheran Church in Tembisa.
He holds a Bachelor of Theology (Hon) and Masters in Theology from the University of Natal – Pietermaritzburg.